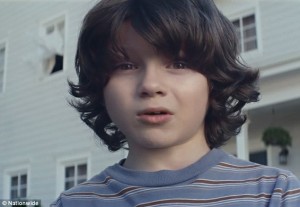 …but I died.
Well, at least the game was good.
The halftime show was incomprehensible and scary to this old-timer.
And the ads? They were generally abysmal, but the entire nation let out a simultaneous "WTF?" when the Nationwide dead kid ad aired.
Nationwide, doubling down on its utter tone-deafness, replied thusly to all us ignorant, apathetic, unfeeling slobs who just wanted to enjoy the last football game of the season:
We knew the ad would spur a variety of reactions. In fact, thousands of people visited MakeSafeHappen.com, a new website to help educate parents and caregivers with information and resources in an effort to make their homes safer and avoid a potential injury or death. Nationwide has been working with experts for more than 60 years to make homes safer. While some did not care for the ad, we hope it served to begin a dialogue to make safe happen for children everywhere.
If I'm that kid, when I go to school today I'm telling my teacher, "No, I didn't get my book report done…cuz I died."